Akuma Musume no Kanban Ryouri
悪魔娘の看板料理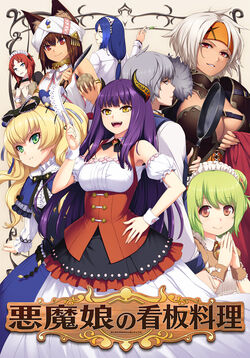 ©ソフトハウスキャラ
| | |
| --- | --- |
| Version | 1.00 |
| Developer(s) | Softhouse Chara |
| Publisher(s) | Softhouse Chara |
| Release Date | February 27, 2015 |
| Genre(s) | Management Simulation |
| Mode | Single Player |
| Age Rating(s) | 18+ |
| Platform(s) | PC |
| Price | ¥8800 (tax not included) |
Akuma Musume no Kanban Ryouri (悪魔娘の看板料理), lit. Devil Girl's Signature Dish, is a pub management-simulation game, developed and published by Softhouse Chara for Windows platform. It is the 22nd installment of Softhouse Chara games.
Gameplay Edit
Main articles: System, Recipes, and Renovations
Akuma Musume no Kanban Ryouri emphasizes the element of tavern-management, ranging from adjusting foods menu to building complementary facilities that surround the tavern. One of the most essential things to pay attention is the menu system. Players are presented with ingredients that can be used to unlock recipes. Under the condition that necessary ingredients such as salt or sugar are present, it is possible to improve a recipe's quality. The profits that can be garnered from the dishes are determined by its overall quality, popularity with the customers, and the season that it is featured. Many other elements include hosting events to build reputation, doing quests, etc.
Each run has a limited number of weeks (essentially 144 turns). Players receive an ending depending on their actions over the run. If the bank balance goes negative at any point during the game, players lose the run with a game over.
Main articles: Characters
Located at the main crossroads, the town of Kaste is known for being a border town with monsters appearing nearby. Gin decides to start his second life by opening a shop in a corner of this town. However, things don't go smoothly for a newcomer to the business: there are problems with the locals, roaming monsters, and rowdy adventurers. Lucky for him, he has his trustworthy allies at his side! With their assistance, with also some troubles they bring along the way, will his shop become prosperous?
System Requirements Edit
System requirements are as follows:
Operating system
Windows Vista/7/8/8.1 64 bit (recommended)
CPU
Dual Core 1.2 GHz (minimum) | Dual Core 1.8 GHz (recommended)
Hard drive
2 GB (minimum) | 3 GB (recommended)
Memory
1 GB RAM (minimum) | 2 GB RAM (recommended)
Resolution
1280x720
Graphics hardware
Supports Directx 9.0 or higher
Intel HD Graphics or higher
Nvidia Geforce 9 series or later
Ati Radeon HD 3x series or later
Video memory
512 MB VRAM (minimum) | 1 GB VRAM (recommended)
Media
DVD-ROM
Promotional Trailer Edit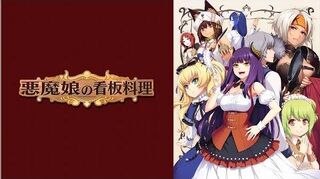 | | |
| --- | --- |
| Title |   ファンタスティック レストラン! |
| Romaji |   Fantastic Restaurant! |
| Vocal |   Kisaki Mya and Fujimura Suzuka |
| Lyric |   Hakase (IOSYS) |
| Arranger |   Amedio |
| Composer |   Amedio |
The game interface is similar to that of Yukioniya Onsenki's.
The main heroine, Arte, is a sibling to Kozerotte from Bunny Black series.

Arte is one of many daughters of Bunny Black's protagonist, Darks.
A waitress in one of the prologue CGs wears a similar uniform as Rakia's.
It is safe to say that the events in Akuma Musume no Kanban Ryouri happen years after the ending of Bunny Black 3.
See Also Edit