Mon wo Mamoru Oshigoto
門を守るお仕事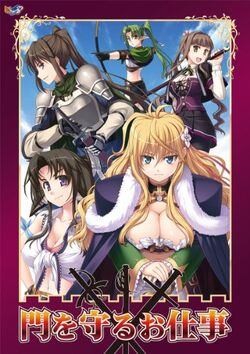 ©ソフトハウスキャラ
Version
1.10
Developer(s)
Softhouse Chara
Publisher(s)
Softhouse Chara
Release Date
September 28, 2012
Genre(s)
Tower Defense, Strategy, SLG
Mode
Single Player
Age Rating(s)
18+
Platform(s)
PC
Price
¥8800

¥9240 (tax included)
Mon o Mamoru Oshigoto (門を守るお仕事), lit. Your Job is to Protect the Gate, is a tower defense-pseudo and mercenaries-management simulation game, developed and published by Softhouse Chara for Windows platform. It is the 18th installment of Softhouse Chara games.
Gameplay
Edit
Main articles: System, Units, Buildings, and Researches
The primary objective in Mon wo Mamoru Oshigoto is to prevent enemies from breaking through the gate. Formulate strategies and position traps, units, and structures accordingly to halt the invasions during battles. However, resources, like money, are not unlimited; good planning and management are essential in order to complete the game.
Main articles: World, and Characters
The two powerful kingdoms of Graford and Raikana have continued to wage war across the lands, trapping small country coalitions in the midst of it.
Many staging points were made as a result of the war, eventually developing into big cities on their own. One such place is the town of Riruzo, where the protagonist leads hired mercenaries in preparation against the enemy, though fighting is not the only means to deal with them. All these require monetary funding and working for the city while dabbling in backroom deals are some ways to earn it.
There is only one purpose, to protect the gate from invaders.
System Requirements
Edit
System requirements are as follows:
Operating system
Windows XP/Vista/7 64 bit (recommended)
CPU
Pentium III 700 MHz (minimum) | Pentium III 1 GHz (recommended)
Hard drive
1.25 GB free space (minimum) | 2.25 GB free space (recommended)
Memory
512 MB RAM (minimum) | 1 GB RAM (recommended)
Resolution
800x600
Graphics hardware
Supports Directx 9.0c or higher
Intel 915G or higher
Nvidia Geforce FX series or later
Ati Radeon X300 or later
Video memory
64 MB VRAM (minimum) | 128 MB VRAM (recommended)
Promotional Trailer
Edit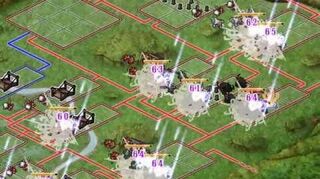 | | |
| --- | --- |
| Title |   To the Gate! |
| Vocal |   Marina Ohno, Hiura Masako, and Hanoi Natsuhana |
| Lyric |   Kanako |
| Arranger |   Kageie Jun |
| Composer |   Kageie Jun |
Mon wo Mamoru Oshigoto is the last Softhouse Chara game with native 800x600 resolution.
The music that plays in the title screen is a remix of Bunny Black's.
See Also
Edit
Community content is available under
CC-BY-SA
unless otherwise noted.