Out Vegetables
アウトベジタブルズ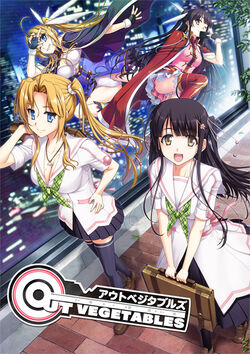 ©ソフトハウスキャラ
| | |
| --- | --- |
| Version | 1.01 |
| Developer(s) | Softhouse Chara |
| Publisher(s) | Softhouse Chara |
| Release Date | June 27, 2014 |
| Genre(s) | Simulation |
| Mode | Single Player |
| Age Rating(s) | 18+ |
| Platform(s) | PC |
| Price | ¥8800 (tax not included) |
Out Vegetables (アウトベジタブルズ) is a thievery simulation game, developed and published by Softhouse Chara for Windows platform. Chronologically, it is the 21st installment of SHChara games.
Gameplay
Edit
Main articles: System, Building Info, and Skills
Out Vegetables is a simulation of thievery game that emphasizes skills, or cards, management and utilizes them to infiltrate target buildings. In every room inside a building, there is always a number signifying how high of cards' point you have to sacrifice in order to complete said room. Failing to meet the requirement point results in various penalties, such as minor increase in the other rooms' requirement points, minus completion points (determines your rank among thieves), or several cards getting thrown to the recycle bin, which would highly likely incumber your flexibility going forward.
Collecting information regarding the target building before attempting infiltration is highly encouraged, as it can locate the positions of treasures within said building, thus saving you both time and cards. Players must outsmart and outrun the rival characters in order to be the best thieves there is.
Main articles: Characters
There were two wishes in the world: one was an immoral wish to become a phantom thief, the other was a perverted wish to have one's treasure stolen by a phantom thief. It would not have been a problem if wishes stayed as wishes, but the two people who harboured these desires met each other. A 'night festival' was established under the dark side of a mega-corporation as a competition for phantom thieves. This is where the story begins for Zenshirou and the two phantom thieves-in-training girls who he leads, Tomoe and Mirai.
Promotional Trailer
Edit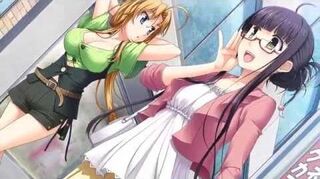 | | |
| --- | --- |
| Title |   ろまんのかいかん |
| Romaji |   Roman no Kaikan |
| Vocal |   Natsume Minami, Himesaki Mia, Yahiro Mami |
| Lyric |   Hata Aki |
| Arranger |   Hosoe Shinji |
| Composer |   Hosoe Shinji |
System Requirements
Edit
System requirements are as follows:
Operating system
Windows Vista/7/8/8.1 64 bit (recommended)
CPU
Dual Core 1.2 GHz (minimum) | Dual Core 1.8 GHz (recommended)
Hard drive
2.4 GB free space (minimum) | 3 GB free space (recommended)
Memory
1 GB RAM (minimum) | 2 GB RAM (recommended)
Resolution
1280x720
Graphics hardware
Supports Directx 9.0 or higher
Intel HD Graphics or higher
Nvidia Geforce 9 series or later
Ati Radeon HD 3x series or later
Video memory
512 MB VRAM (minimum) | 1 GB VRAM (recommended)
Media
DVD-ROM
It's safe to assume that Out Vegetables and Yukioniya Onsenki share the same setting as the village's mascot in Yukioniya, Kuman, made an appearance during a tv commercial.

Additionally, one of target buildings has the same name as the protagonist's office in Mahiru Ni Odoru Hanzaisha.

Could be just a reference.

Out Vegetables is listed as "Auto Vegetables" at DMM.
See Also
Edit
Community content is available under
CC-BY-SA
unless otherwise noted.