Sono Kojou ni Yuusha Hou Ari!
その古城に勇者砲あり!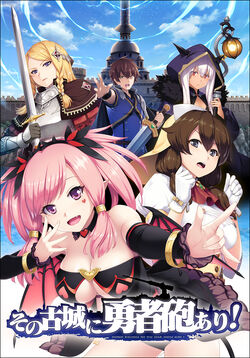 ©ソフトハウスキャラ
| | |
| --- | --- |
| Version | 1.11 |
| Developer(s) | Softhouse Chara |
| Publisher(s) | Softhouse Chara |
| Release Date | December 18, 2015 |
| Genre(s) | Tower-defense |
| Mode | Single Player |
| Age Rating(s) | 18+ |
| Platform(s) | PC |
| Price | ¥8800 (tax not included) |
Sono Kojou ni Yuusha Hou Ari! (その古城に勇者砲あり!), lit. There's a Hero Cannon in that Old Castle!, is a tower-defense game, developed and published by Softhouse Chara for Windows platform. It is the 23rd installment of Softhouse Chara games.
Gameplay
Edit
Main articles: System, Units, and Target locations
Sono Kojou ni Yuusha Hou Ari! adopts core system similar to that of the amalgam between Suzukuri Dragon and Mon wo Mamoru Oshigoto, though not as complicated as either of them. Player's primary objective is to defend the castle from the invaders while also razing nearby locations of interest by using the castle's cannon, which utilizes mana that is obtainable through sexual actions for its ammo. Progress through the storyline by destroying the target locations, doing it quickly will net you completion bonus.
Main article: Characters
The hero Oura arrived at an old castle on his journey to defeat the demon king. By chance, he discovered an ancient super-weapon called the 'hero cannon' (yuusha-hou), which only activates by engaging in sexual activities with females! Together with the failure of succubus Tina, jealous childhood-friend and healer Freya, overly-serious royal knight Mira, and self-centered magician Ekuri, Oura's battle begins!
System Requirements
Edit
System requirements are as follows:
Operating system
Windows Vista/7/8/8.1/10 64 bit (recommended)
CPU
Dual Core 1.2 GHz (minimum) | Dual Core 1.8 GHz (recommended)
Hard drive
4 GB
Memory
1 GB RAM (minimum) | 2 GB RAM (recommended)
Resolution
1280x720
Graphics hardware
Supports Directx 9.0 or higher
Intel HD Graphics or higher
Nvidia Geforce 9 series or higher
Ati Radeon HD3000 series or higher
Video memory
512 MB VRAM (minimum) | 1 GB VRAM (recommended)
| | |
| --- | --- |
| その古城に勇者砲あり!CM | その古城に勇者砲あり!デモムービー |
Sono Kojou ni Yuusha Hou Ari! is one of very few Softhouse Chara games that don't require players to finish the main game to unlock extras section in the main menu.

There are notable similarities between Sono Kojou ni Yuusha Hou Ari! and Mon wo Mamoru Oshigoto.

As mentioned in gameplay section, the visual and system are almost identical.

Korona and Lacrima have similar primary colors to Hailey and Mircass, respectively. Not to count that they also have the same roles as their Mon wo Mamoru Oshigoto's counterparts.
See Also
Edit